Are you thinking of where you could get a great Web Development and website designing Company? Don't look further, you are landed the best place. Apxic Technologies, is a leading Company of Web Designing in Ambala, India since 2009. Apxic Technologies is a professional Web Designing Company in Ambala.
For the most part, Web Design is not just an art but a science of creating a successful online web presence that not only delivers audience but consistent sales and profit too.
Best Web Designing in Ambala :
Apxic Technologies is the best web designing company in Ambala. Our web designers first evaluate the scope of the business model Including all possible aspects and then design wonderful, user-friendly websites in order to convey the message loud and clear to the public.
Web Designing is not just a profession but a passion for our Company. In short, We believe in the idea that good looking of any website is the first impression on visitors. As a result, We are listed in the best Web Designing Company in Ambala.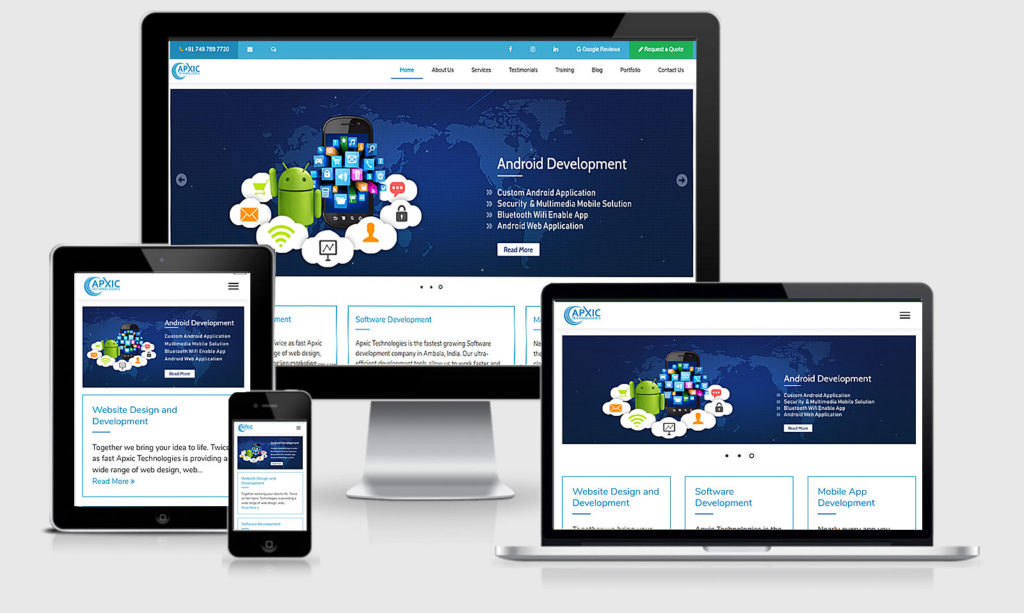 The good design of any website is the starting point of any website. Thus we have a special team for Website Design who has been involved in designing professional websites of all categories.
Best Team for Web Designing in Ambala :
Apxic Technologies have a team of Web Designing Company in Ambala. We have extended our hands across the globe in providing the World Class solutions to the clients in Web Designing and Development.
Experience Matters :
Because of our extensive experience in this area, we know exactly what makes a web site work, and will ensure that your website meets your expectations.
Through a simple process, we will work with you through the development stage, ensuring you get exactly what you want out of your site while making sure we provide you with the right advice so that you end up with a product that you, and the customer using it, will be happy with.
We offer a complete range of Website Design and Website Development, web designing company in Ambala, includes Corporate Web Site, Flash Website Design, Web Hosting, Internet Marketing, Search Engine Optimization, and E-Commerce Solutions.
We are offering very cost-effective website designing, web development, E-commerce, Web Portal Development, SEO, Digital Marketing and Mobile Apps (IOS and Android Based). As the Best Web Designing Company In Ambala, Our Team works with the latest technology to develop a good, smooth and world-class website.
WEB DESIGN PRICES
*There are lots of more customize website design options so please contact us for more details.
Apxic Technologies also provides Website Designing and development services in Ambala, Himachal Pradesh, Punjab, Haryana, Jammu & Kashmir, Uttar Pradesh, Delhi, and Uttrakhand.